RMTT Happy Hour: 4 Noses Brewing
April's Social Happy Hour was in Broomfield at 4 Noses Brewing on their outdoor patio. 4 Noses is a family brewing operation started in 2008 and opened their taproom in May of 2014. They were looking for a location where they could stand out and be a real part of the community. Their mission is to be a socially responsible brewery of extraordinary passion and creativity, constantly crafting unique and classic styles. With 17 beers on tap, flights are the way to go to learn more about what makes a beer part of the 4 Noses family. This month's checkered shirt theme was a big hit with everyone but John.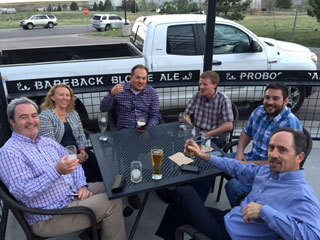 4 Noses is celebrating their 2nd Anniversary at the end of May. Thanks for a great evening!
Each month the team visits a different front range brewery to catch up with each other, have a few beers, share tech knowledge and keep up with the ever growing community of craft brewers & distillers in Colorado.