Finding your Comcast Account Number
Comcast no longer providing support without account number
The Problem:
Up until now Comcast has allowed us to call in on a customer's behalf to troubleshoot an outage.  Moving forward, Comcast will not talk to us without us providing your Comcast account number.  Often times we are alerted to your internet being down and can begin troubleshooting first thing in the morning, sometimes before anyone even arrives at your office.  Without the account number we won't be able to troubleshoot the outage.
The Solution: Get us your account number
There are two places you can track down your account number.  Once you do, please email to dispatch@rmtt.com so we can add it to your client record in our system. That way our tech can call Comcast as soon as possible and we won't have to ask you to track it down.
From your bill:
Your account number is listed on your Comcast bill in the upper right hand corner.  Here's a snip of where to find it on your bill: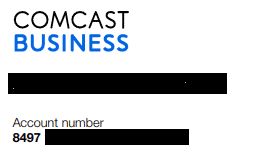 From your online login:
Login at https://business.comcast.com/myaccount, and click "View Bill Details" and you'll find your account number listed on the right hand side of the screen