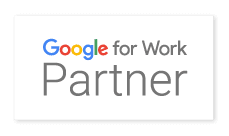 Rocky Mountain Tech Team is a Google for Work Partner specializing in helping businesses setup, configure and migrate all their data to Google Apps for Business.
Leverage the full power of Gmail, Google Calendars, Google Drive, Hangouts and more for your team. Google Apps allows you to use your domain name powered by all of the services Google offers.
Works with Chrome, iPhone and Android seamlessly to allow the greatest flexibility for your team.
Work has Gone Google
Learn More